Rovers Club Spring(ish) Trail Hop
Blairstown, NJ - March 28-29.
Come enjoy a relaxing weekend of Rovers, food and perhaps a bit of mud. The year featuring a very special visitor. Well give you a hint...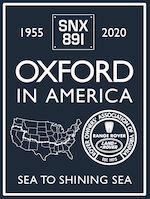 More info coming soon.


Ask questions about your Land Rover or any of the vehicle belonging to members. If you wish to join our club forms will be provided to fill out, a yearly membership of $25. New members will receive a t-shirt, sticker and a newsletter. Stickers are mailed out, t-shirts are only available at events.

---
R.O.V.E.R.S. is a Land Rover club (Series Land Rover, Range Rover, Defender, Discovery and Freelander) serving the Mid-Atlantic region (including Pennsylvania, Maryland, Delaware and New Jersey).

Membership is open to all Land Rover enthusiasts. The club plans and participates in off-road events, picnic, rallies, car shows and shop days.
---

Payments Online
We have set up online payments for membership dues
Do it!

Fenders to Wings
100USD buys 70.64GBP or
100GBP buys 141.54USD
Check current rates
Sponsor Links
Atlantic British
British Pacific
D.A.P.
Gold Coast Rovers